Oak Forest Observes Día de los Muertos
With the help of Language Club and all of the Spanish classes, the IMC put up a community ofrenda (altar) to celebrate this year's Día de los Muertos (Day of the Dead). It is a Mexican holiday (November 1-2) that celebrates relatives and ancestors who have passed on. Day of the Dead isn't a sad or mournful holiday. Friends and families come together to celebrate and honor those who have passed. It is one of the most widely observed holidays in Mexico. Families participate in many traditions such as making ofrendas, going to the cemetery, and cooking special meals and treats.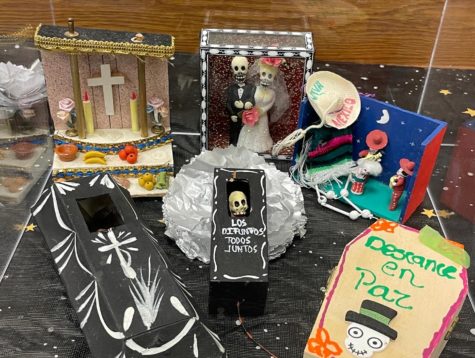 Ofrendas (Altars)
One important aspect of celebrating the Day of the Dead is setting up an ofrenda. Setting up the
ofrenda is arguably one of the most important parts of Día de los Muertos and is a huge way in
which families acknowledge and appreciate their loved ones. Each family sets up a personal ofrenda at home, consisting of many items of special meaning:
● Photos of family members, friends, and any other people in their life who have passed.
● Food such as pan de muerto or any favorites of the people who have passed.
● Decorations including calaveras (sugar skulls), papel picado, flowers (specifically
cempasúchil or marigold flowers), candles, etc.
● Personal items of the people represented on the altar.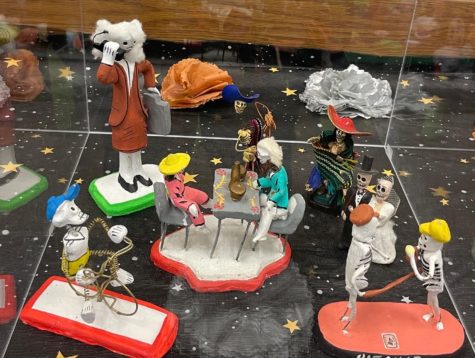 The Cemetery
Before November 1-2, the days Día de los Muertos is celebrated, Families go
to the cemeteries that hold their loved ones and spend the day decorating, cleaning, and
celebrating their graves. Presents, candles, food and flowers are all brought to the cemetery to
decorate. At the cemetery people share many past stories of loved ones and have a big
celebration with visiting and dancing.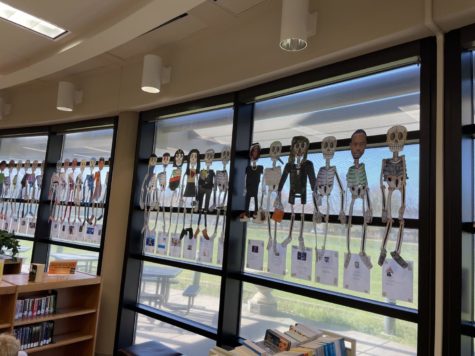 Special foods
For Día de los Muertos, families cook many amazing traditional foods:
● Pan de muerto: Day of the Dead bread or pan de muerto is a sweet delicious bread that
is added to ofrendas as offerings to the dead.
● Tamales: tamales are a traditional Mexican dish made with a corn-based dough mixture
that is filled with various meats or beans and cheese.
● Sugar skulls (calaveras): sugar molded into skulls and brightly decorated. They are
very colorful, but if you try to eat them, you should know that they have a lot of sugar.
● Mole: a thick sauce made out of chilies, nuts, seeds, and chocolate.
Now that we understand the basics of Dia de los Muertos, we can fully understand and
celebrate all the hard work OFHS students and staff have put into its very own altar! Language
Club and all of the Spanish classes worked very hard to be able to set up the ofrenda this year.
Flowers were cut and shaped using tissue paper, images were cut and printed, drawings and
paintings were made, as well as many other decorations. On Thursday October 27, the IMC had the completed ofrenda up and ready to celebrate. There were plenty of pictures of people who have passed who OFHS students wanted to include.
Unfortunately, there won't be any real food on the ofrenda, but many students used clay to create their own treats for the altar. Countless students visited the IMC to witness and experience the hard work that OFHS put in to create this year's ofrenda.