Marching Bengals Return to Form

The Oak Forest High School Marching Bengals made their appearance at the last home football game on Friday, October 22. Because of the pandemic, the marching band hasn't had many performances since the fall season of 2019. On this occasion, the band played well-known selections such as the Foo Fighters' "The Pretender," for which the drum line performed an outstanding cadence, and the OFHS Fight song, which spurred a lot of crowd involvement in the halftime show.
During practice, the band works extremely hard to practice even spacing and straight lines. At the game, the musicians walked onto the field with seniors ready for their last show. Each individual was watching for a break in a line and checking whether one side of the block was moving faster than the other.  The Bengals ended the show with a scramble of kids and instruments, forming an "O" layered on top of a "F" and representing Oak Forest. Once in this form, the band played the iconic OFHS fight song, rallying the crowd as one.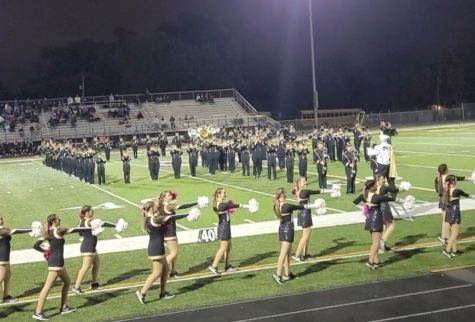 Junior band student Kathrine Zavala, 16, explained how difficult it was to adjust back to in-person playing: "It made me feel super nervous. I didn't know who got any better, or if I even got worse. This made me feel like I wanted to hide in the noise rather than play louder." Kathrine can speak for many band students in the same boat. After playing alone behind a screen for a whole school year during the pandemic, it is extremely difficult to adjust. 
Led by drum majors Sabrina Sifuentez, a junior, and Nathan Towery, also a junior, the band stood up in the stands through the third quarter, playing tunes to hype up the crowd. Many students contributed to the chants and really lifted spirits during the game, despite the team's loss. 
You can watch the video of the performance here!
The OFHS Marching Bengals are continuing to practice every day in class and will be even better when they perform during the winter concert, which takes place before the break in December.