Boys' Basketball Wins 20 in a Row
The BBall team is burning up the courts this season!
The last two wins have been big for the Oak Forest Bengals. The boys' varsity basketball team recently beat rival T.F. North High School, 64-56. They also beat rival Lemont in a hard-fought, double-overtime 63-58 win.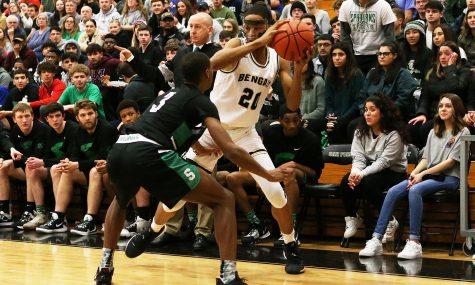 These wins improve Oak Forest's record to 24 wins with one single loss. The boys not only have a 95% win record, but they are on a 20-game winning streak.
I spoke to point guard Jadareon Evans, and he said, " I really think we are the best team out there, and I think we really have a good chance to win state."
Oak Forest currently has the best record in the Conference; it is considered one of the best teams in the state, according to Max Prep.
Oak Forest Cheerleader Isaac Cardenas said, "It's so fun to watch the boys dominate while I'm cheering [and it] makes me want to work twice as hard to keep the crowd involved."
The boys have another home game on February 18 versus Manteno High School at 6:30. Come and support the Bengals as they try to add another win to their already-impressive record.