OFHS Boys' Bowling Team Rolls Over SSC Blue Conference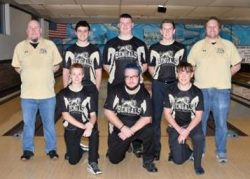 As Oak Forest has transitioned into winter sports, everyone is talking about basketball, wrestling, cheer, and dance. But did you know Oak Forest High School has a varsity bowling team that is currently 10-1?
     The team consists of Justin Chojnowski, Derrick Dian, Matthew Hannafin, Jacob Kincade, Austin Nielsen, and Zackary Olkiewicz. The team is leading its conference by 4 games, holding Bremen High School to second place and Lemont High School to third.
     Oak Forest only has one loss this season, which was a very close game, 1857-2102, against Richards High School. This game sparked a rivalry between the two teams, leaving Oak Forest eager for a rematch and motivating everyone on the team to work twice as hard.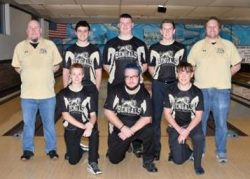 I spoke to Zackary Olkiewicz about the rivalry with Richardson, and he said, "We have a really good team this year, and I know if we play Richards again we can beat them and get our revenge."
     I also spoke Theodoros Stog, a huge bowling fan, about how the Bengals' season was going, and he said, "I've been to every single meet and I'm shocked how well Oak Forest has been playing. I knew they were a good team, but they're playing like a state champion team, and I hope they can qualify for State."
     Bengals, come out and support the bowling team in their fight to earn a sectional spot at their Regional meet this Saturday, January 18th at Centennial Lanes.