A Very Warm Bengal Send-Off
Hang on for a minute...we're trying to find some more stories you might like.
There are some amazing people at Oak Forest High School, and sometimes, when they prepare to leave, we stop and realize how much they have meant to us. Laura Spiewak has worked at Oak Forest High School for 18 years, which is another way of saying that there have been 18 years of smiles on students' faces as they pay for their lunches. "[Laura is] very nice and tries to memorize names and ID numbers; she always has a smile on her face and has conversations with me and other students," said Emily Montes, a student who speaks with Laura regularly. Laura has had an impact on many students lives (this writer included). "She's always super kind and positive and is willing to help students if they need help," Emily added.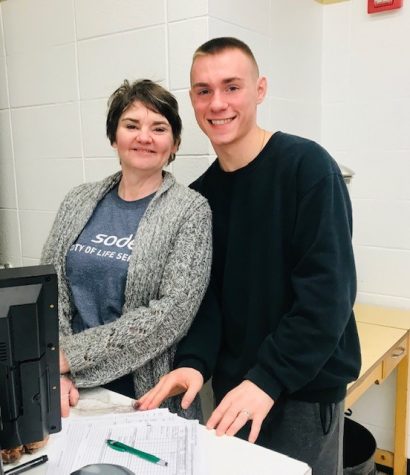 Not only does Laura have a positive attitude towards students and staff everyday; she has also gone out of her way every year to give money to pay for students' dance tickets: two for Homecoming, two for Turnabout, and two for Prom. She then leaves it up to Ms. DeBosschere to find students who may be going through financial hardships. Laura has a great heart, and I'm sure that students are extremely grateful for her and all she has done. Staff and students both agree that she is extremely giving and kind. "She's the sweetest and makes my day better with her bright smile and positive attitude," said Isaac Cardenas. Laura has had a positive impact on students and has been brightening students' days for 18 years. Now it's time for all of us to thank her for what she's done in her time at Oak Forest High School and wish her the best in retirement. As Emily Montes put it, "I'm very sad she's leaving because I talk to her everyday, but I wish her the best."