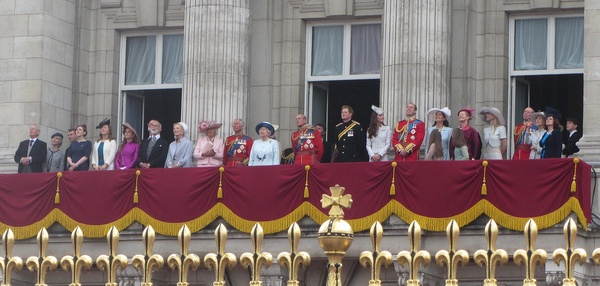 Credit: alexdavidwriter, Creative Commons, https://search.creativecommons.org/photos/f03f71ba-e654-46ae-9e28-10736bd554ef
The British monarchy is extremely different from the republic here in the United States. The terms "queen" and "prince" sound absurd when referring to the American governing system, but they have been common in Britain for more than a thousand years. It is sometimes difficult for Americans to grasp the British royal lineage. Many of us have no reason to learn it in the first place.
If we're discussing the current members of the royal family, Queen Elizabeth II and her husband Prince Philip (Duke of Edinburgh), head the family tree. They have four children: Charles (Prince of Wales), Ann (Princess Royal), Andrew (Duke of York), and Edward (Earl of Wessex). Charles was married to the late Diana, Princess of Wales, until their divorce in 1996. Together they had William (Duke of Cambridge), and Harry (Duke of Sussex). Currently, the immediate line of succession after Queen Elizabeth would be Prince Charles, then Prince William, then William's son Prince George, followed by his two siblings, Princess Charlotte and Prince Louis.
The sixth in line, Prince Harry, Duke of Sussex, married the American actress Meghan Markle, Duchess of Sussex, in 2018, and they had their first child, Archie Harrison Mountbatten-Windsor, who is seventh in line to the throne, the next year. This portion of the family tree has recently been at the center of controversy, specifically when they stepped down as senior royals in 2020. They moved to California and intended to build their own lives. Although this decision created hostility within the family, they believe it was their best option.
According to the couple themselves, the combination of a toxic press environment and racist attitudes directed toward Meghan, who is multiracial and African-American on her mother's side, made it a necessary choice for them to step back and leave the United Kingdom. Royal gossip is typical tabloid fodder in Britain, and as the Duke and Duchess gained popularity, the media coverage (and the sometimes-vicious comments) also grew. Meghan reported experiencing depression, culminating in suicidal thoughts, and she became alarmed that the royal institution intended to deny her son Archie the title of Prince and stop providing the family with security details. The couple stated that at least one unnamed royal also made racist comments about Archie to Prince Harry before the child was born. Harry admits that his relationship with his father and brother is currently strained.
To many Americans, watching the couple speak to Oprah Winfrey a few weeks ago, the royal family might have seemed stifling and unprepared to stand up for Meghan, who is herself American. Meanwhile, for many British viewers, the couple seemed eager to attack the monarchy and demand privileges that most ordinary people will never have. Still, the Palace felt compelled to release a statement, even as many royal family members avoided directly addressing Harry and Meghan's allegations. There have been calls for parliamentary inquiries, independent investigations, and new staff to work in the royal institution.